Almonry Museum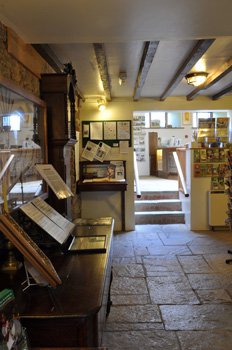 The Almonry is a truly remarkable building: dating back to the 14th Century, this Grade I Listed property has developed over a period of at least 700 years to become an intriguing architectural patchwork.
It was originally built as the home of the almoner, a monk from Evesham's Benedictine Abbey. From here he would minister to the poor and sick of the parish, handing out 'alms' to the needy until the abbey's dissolution in 1539.
Since 1957 it has served as the town's museum, combining the conservation and display of artefacts and archives with the dual purpose of tourist information centre. Artefacts include the stunning Saxon grave goods, the 14th Century Abbot's chair, beautiful illuminated manuscripts, a large collection of prehistoric fossils and a display of rare Georgian clothing. In the tranquil walled garden you can sit and soak up the atmosphere, take time to admire the Crimean cannon, the fairground galloper and the many pieces of abbey stone dotted about the grounds.




For family and local history buffs, our archives can be used for research with prior booking, and the staff here are always happy to answer any queries about the town's past and present day. We have a range of activities and events on throughout the year that cater for all age ranges from our holiday activity packs for the young, to our historical lectures and displays. Local arts and crafts are shown through a rolling programme of exhibitions.
A visit to the Almonry will give a profound and lasting insight into the communities that have lived in the area, so come and explore thousands of years of history in one unique building!