Parks & Open Spaces
Wychavon District Council is responsible for the award winning Parks and Open Spaces in the Evesham, Pershore and Droitwich Spa areas including two designated Nature Reserves (one of which is in Broadway).
Some other sites are managed with wildlife needs very much in mind and these are noted as Nature Areas.
Abbey Park
It has a wonderful setting with a natural terrace and excellent views from the higher levels over the adjacent river Avon. Boat trips run from the Park Quay in the summer.Central to the town and originally the grounds to Evesham Abbey, the park interprets that heritage in a variety of ways.
Workman Gardens
On the opposite bank of the river Avon to Abbey Park these linear gardens provide close access to the water along a paved towpath. The park hosts various events in the year including a Churches Together event and the main river festival in July. At the bridge end of the park the avenue of mature lime trees is lit at night with purple and green up-lighters which give a very romantic mediterranean feel to the river frontage.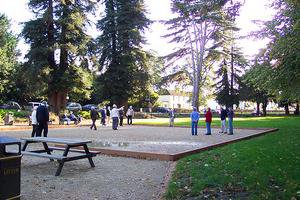 Crown Meadow
This extensive area of flood meadow is used for recreational purposes most of the year. Parking in the summer and football in the winter. It hosts a variety of events through the year from fairs to the huge fishing festival in August.
It runs from Abbey Park Evesham and the rowing club to the east along to the Bridge at the A44.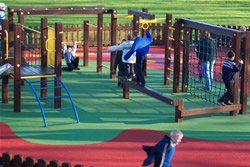 Waterside Gardens
These tranquil gardens sited on the opposite bank of the river Avon to Crown Meadow are a haven for those who love quiet seating with good views.
The pieces of artwork blend into the setting and at the same time provide points of interest as visitors walk round the terraces.
Come summer time the annual cornfield meadow shows off its colourful display of native and ornamental plants.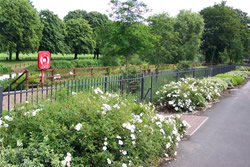 Charity Brook Park
Charity Brook Park (formerly Davies Road Open Space) is a local neighbourhood facility and is on route between schools in Four Pools and homes on the Charity Brook development.
Formerly a plain grass area with football pitches and an old trim trail it was totally redeveloped in 2007 to provide new play facilities, paths, seats and cycletrack.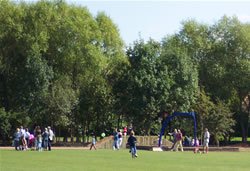 Jubilee Gardens
These are local facilities and best reached on foot or by cycle.